Company profile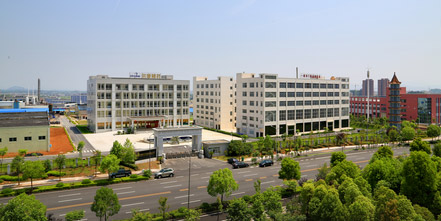 Company name:HUNAN ER-KANG PHARMACEUTICAL CO.,LTD.
Company website:www.hnerkang.com
HUNAN ER-KANG PHARMACEUTICAL CO.,LTD. (Stock#300267), founded in October 2003, boasts the largest leading enterprise in pharmaceutical excipient industry, as well as one of the few enterprises with Drug Registration Approvals for both API and finished drug of sulbenicillin sodium. Up to date, it owns 43 API products, 120 pharmaceutical excipients and 148 Drug Approvals for finished drug products, forging a new development configuration that focuses on the three key products of API, finished drugs, and pharmaceutical excipients. ER-KANG was listed in Shenzhen Stock Exchange on Sep. 27th, 2011, being the only listed company in the industry, which has won a series of honorary titles like "2013 Best Potential GEM Listed Corporation", "2013 Most Influential Top 100 Pharmaceutical Enterprises in China ", and "The Listed Company with Best Investment in 2014 ", etc.
Adhering to the policy of "Drug Safety Above Everything ", ER-KANG consistently takes product quality as its lifeline and introduces GMP standards into the production of pharmaceutical excipients for the first time. It now owns multiple state-of-the-art pharmaceutical production lines, internationally advanced drug test devices, and a top-class R & D center with a professional team who have involved in the preparation and revision of over 300 China pharmaceutical excipients standards. ER-KANG is recognized as "National Torch Plan Key High-Tech Enterprise" and the supporting unit of China's first "State-Level R&D" by National Ministry of Science and Technology
ER-KANG 's business covers 30 local provinces and autonomous regions, Southeast Asia, Europe, and the North America, with 15 regional offices /distribution centers nationwide and 14 subsidiaries/sub-subsidiaries, namely, Hunan Xiang Yi Kang Pharmaceutical Co., Ltd. (a wholly owned), Nanning Gui Zhilong Pharmaceutical Excipient Co. Ltd. (wholly owned), Hunan Pharmaceutical Excipient Engineering Technology Research Center Co Ltd, Hunan Xiang Li Lai Chemical Co. Ltd. (wholly owned), Hunan ER-Kang (Hongkong) Co., Ltd. (wholly owned), Hunan ER-Kang (Cambodia) Investment Company Limited (wholly owned), Guangdong Yue-Er-Kang Pharmaceutical Co., Ltd. (fully owned), Zhongshan Capsule Starch Material Starch Technology Ltd, Hunan Tongtai Capsule Co., limited, Hunan Kang Zhengyang Pharmaceutical Capsule Co. Ltd. (wholly owned), Hunan Er-Kang Beishang Gelatin Co. Ltd. (wholly owned), Hunan Dongting Citric Acid Chemical Co., Limited, and Wang Kang Biochemical Co. Ltd. (wholly owned)
The company has successfully broken through the technical bottleneck of the new-type high-end starch capsules, and, through a series of optimal integration of domestic and international resources, established a complete industrial chain from upstream raw material to production and end-user market, becoming the world's first cassava starch manufacturer. The company is now registered with FDA and filed the DMF of starch capsule and obtained multiple certificates like Halal by IFANCA, Halal by MUI Indonesia, and Kosher by KOF-K, etc. To further extends the industrial chain, ER-KANG has developed a new product line of trioctylcitrate as a new-type pharmaceutical excipients, forming a new strategic development configuration featured in three key businesses of traditional pharmaceutical excipient, innovative starch capsule, and new product line of trioctylcitrate as pharmaceutical excipients
In the future,ER-KANG will be dedicated to the rejuvenation of national pharmaceutical excipient industry, setup a strong foothold in China, and extend its reach worldwide through continuous innovation. The company is willing to join hands with its counterparts and investors on the base of win-win principle.
Contact us
0731-8465-9108 0731-8328-5162