Company profile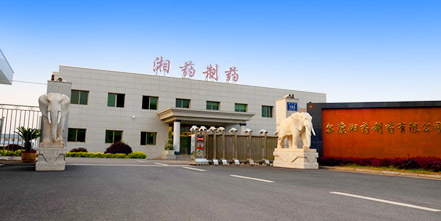 Company name:Hunan Er-Kang XiangYao Pharmaceutical Company
Hunan Er-Kang XiangYao Pharmaceutical Company, the subsidiary of HUNAN ER-KANG PHARMACEUTICAL CO.,LTD. is located at the picturesque Liuyang Economic and Technological Development Zone, where logistics network is highly developed.

XiangYao Pharmaceutical is a high-tech pharmaceutical enterprise with registered capital of 64,728,800 RMB. Dedicated to production and distribution, the company owns 148 registered drug products, being the first sulbenicillin sodium manufacturer in China, as well as the only one with approvals for all the three specifications (1g, 2g, 4g) of sulbenicillin sodium, of which, the 4g is exclusive to the company. By 2013, XiangYao has been GMP certified (2010 new version GMP)
At present, the company's flagship products are compound liquorice tablets and methyl benzyl amoxicillin sodium injection, of which, the former is a mucosal protective antitussive with minimal side-effects. It is a prescription drug preferred by majority of patients, while the latter is a new generation of broad-spectrum semi-synthetic penicillin. This essential new prescription drug was launched into the drug market of Hunan province in 2015.
Contact us
0731-8328-2791 0731-8328-2198